Modular Cold Rooms are made up from individual panels that result in an energy efficient cold room that maintains a suitable temperature. 
A Modular Cold Room from MTCSS is built bespoke to our customer's every requirement. We use the very best products available, adhering to hygiene, building and fire safety standards where required. MT Cold Storage Solutions are proud to offer the best modular cold rooms on the market to our clients, with industry-leading service and a bespoke, turnkey installation which will fit around your business – so get in touch with us today to talk about what we can do for you!
Modular Cold Rooms from MTcss
MT Cold Storage Solutions offer industry-leading modular cold room systems, made with high-quality insulated panels and flooring which offers unmatched adaptability, turnkey installation and energy efficiency to your cold storage.
What is a Modular Cold Room?
A modular cold room is a cold room or walk-in freezer which is built from interlocking insulating panels, which can be assembled in a huge variety of patterns and sizes – resulting in extremely quick installation and an easy versatility that can benefit any industry.
Since they are quick and easy to set up and dismantle, and provide excellent insulation, modular cold rooms are a clear choice for industries which require variable cold storage facilities – especially temporary cold storage or cold rooms which may need to expand and contract as necessary for maximum business efficiency.
The Advantages of Modular Cold Rooms
While they provide the same industry-leading insulation and energy-efficiency, the modular cold rooms from MT Cold Storage Solutions are extremely flexible in their installation and application, providing unmatched adaptability for any business which uses them.
For starters, modular cold rooms are almost infinitely versatile. Unlike normal cold rooms, installing a modular cold room is a simple matter of connecting the insulated panels together, making it a quick and easy installation which can be quickly undone where temporary cold storage is required.
This same feature makes it easier than ever to increase or decrease the amount of cold storage that your cold room can offer, making it a simple matter of removing panels and adding additional panels where necessary. No other cold room type can match this versatility!
What Modular Cold Rooms are Available from MTcss?
PIR Chillers and Freezers
Choose MTCSS for high quality modular cold rooms that are manufactured with a PIR insulation core, offering the most effective possible insulation performance. Watch our video here
For temperature ranges from -40°C to +60°C, the low density rigid core offered by PIR gives the best possible energy efficiency, thermal stability and lower combustability.
The modular, panel construction makes these PIR rooms easy and quick to assemble and construct, with PVC angular joints and panel edges for optimum hygiene.
MTCSS modular cold rooms include door opening system and features such as internal safety handles and external handles that come with or without a key.
PIR is a more effective fire safe alternative to other products, providing the reassurance of a superior fire rating to protect in environments which create huge amounts of heat.
Modular Box – totally chilled
For the storage of food, flowers, medical supplies or frozen goods, choose MTCSS to supply and install the Modular Box for the highest, guaranteed levels of performance.
Designed as a flat pack walk-in cold store, the system Is easy to assemble and install to quickly and efficiently get optimum levels of chilled storage.
Subject to application and location, the Modular Box can be specified in any colour, or in a stainless steel finish.
A choice of thickness, floors, flat or multiple ribbed wall profiles, and a range of doors are available.
The Modular Box features a zero ODP high performance insulation core, for optimum level of thermal efficiency and fire protection for every application.
The panels have an ECOsafe and FIREsafe PIR insulation core and are also fibre-free, making the Modular Box ideal for all cold store applications, including food storage or other clean room facilities.
MTCSS can install the Modular boxes in standard sizes, or to individual specifications to suit every chilled application.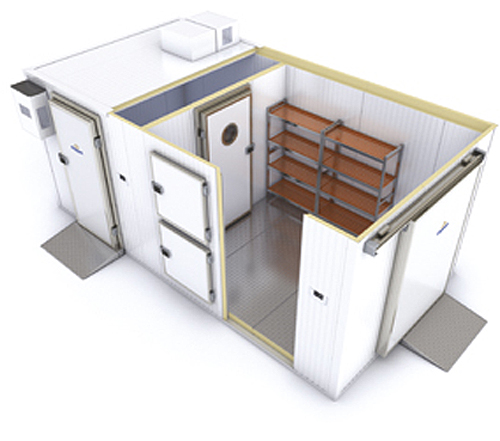 Modular Box Video
PUR Chillers and Freezers
Come to MTCSS for the supply and installation of Modular Rooms. For applications including Chill and Freezer Rooms, our Modular Rooms will efficiently and reliably store and meet your catering requirements.
Where negative temperatures are required, our Modular Rooms feature 100mm panel insulation. Where positive temperatures are specified, MTCSS supplies 60mm panel insulation. We offer effective insulation for temperature ranges from -50°C to 50°C.
Our Modular Rooms include PVC angular joints, and for ease of installation use a Cam-Lock system. A door opening system complements internal safety door handles and external handles that can be fitted with or without a key lock. Optimum hygienie conditions are faciliated by design and construction.
Our Modular Rooms are available without a floor, and can incorporate anti-skid flooring.
PUR Refrigeration Monoblocks
Choose MTCSS for the supply and installation of Refrigeration Monoblocks for Modular Cold Rooms.
Ideal for use in commercial cold rooms:
Frigorafen Refrigeration Monoblocks feature:
• A highly efficient hermetic compressor
• For positive temperature and negative temperature applications
• Capillary expansion
• Electrical defrost
• Works up to +43˚C ambient temperature
• Automatic evaporating water condenser
• Cold room door fan with cut out micro switch
• Cold room door resistance power cable
• Available in different versions (straddle, ceiling, through the wall)
Frigorafen low noise condensing units feature:
• Operating range of MBP (+5 / -20 ˚C) and LBP (-20 / -40 ˚C)
• Working up to a 43 ˚C ambient temperature
• Dba level certified by CSI
• Liquid receiver
• Solenoid valve on liquid line
• Double authomatic pressostat
• Electrical connection on terminal board in electric box IP55
Frigorafen low noise condensing units feature:
• Eco-inverter
• Hermatic Compressor
• Inverter technology
• Up to 25 per cent energy savings
• Dba level certified by CSI
• Oil Separator
• Fan speed control
• Two models