MTH Hinged Doors
PRODUCT DESCRIPTION 
Hinged door suitable for cold rooms at a positive temperature (0 °C minimum), with CSI handle certified EN179:2008.
For positive temperature
Blade thickness 68mm
Polyurethane density: 40Kg/m³
Available in one blade or two blades versions
APPLICATIONS
Suitable for cold room used to preserve, transform and ripen foods at a positive temperature (minimum +1°C).
The 500 TN doors are mainly used in meat processing plants, cheese factories, warehouses to preserve fruit and vegetables, slaughters, trade centres, shops (delicatessens, fish shops, dairies, ice-cream parlours …), fish processing plants, ice-creams industry.
Price £850 + VAT (ex. Works)
Bespoke sizes and freezer specification available. To enquire please email spares@mtcss.co.uk or call 01886 833381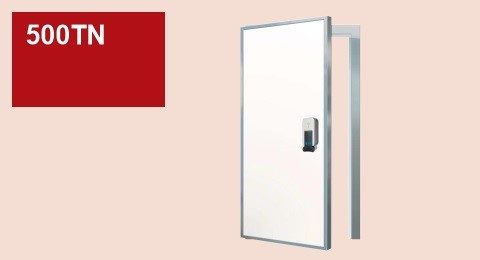 Hinged Door & Frame to suit 850mm x 1900mm (Chiller) – right or left handed