MTCSS can now offer the supply and install of MTH Aluminium Frames and Aluminium door handles for hinged and sliding doors. But what are the features and benefits of using an aluminium door frame and handle for your insulated doors and service doors? MTCSS are here to answer your questions.
Who are MTH?
MTH are a leading door manufacturer founded in 1942, whose headquarters and factory based in Almese, near Turin, Italy.
MTH is a major player in refrigerated door design and manufacture – every MTH product is the result of a continuous research and development process.
MTH are leaders at a global level in the production of insulated doors used in the commercial and industrial refrigeration world. This includes, but is not limited to, hinged, sliding, to and fro, guillotine and atmospheric doors which are capable of ambient, chiller or freezer applications.
MTCSS have developed a partnership with MTH and are proud say we are the UK's main agent to supply their innovative products and insulated doors.
Aluminium Door Frame
MTH have previously used a heavy duty PVC wraparound frame system – but they have now introduced a new aluminium door frame to the UK market to complement their existing range of frame systems.
The frame utilises an aluminium front and back with a PVC internal side frame to act as an efficient thermal break. These aluminium frames can be utilised for chillers and for freezers with the use of a heater system.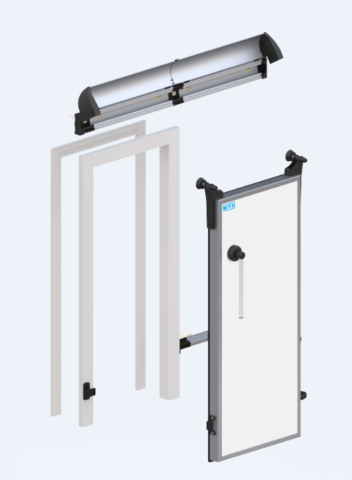 Features :
• The aluminium frame is composed of: PVC Modular Side Frame
PVC Counterframe
Aluminium Counterframe
Frame Reinforcement PVC Profile
• It is composed of two aluminium profiles fastened by a polyamide profile that guarantees the thermal break
• It can be used for low temperature applications up to -25 degrees (heating cable on door required)
• It can be easily assembled with plastic angles
Benefits :
• More aesthetically pleasing than a PVC door frame
• Easy assembly
• More robust and durable
• Heater system for the freezer is a mains system (down to -25 degrees)
Aluminium Door Handle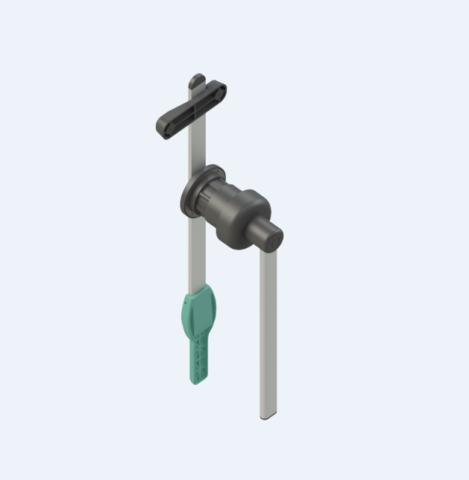 Features & Benefits:
One size fits all:

Thanks to its telescopic system, the lever handle is adjustable with high precision to any door thickness, from 60 to 121 mm.
Simple installation:  Just one hole is required to install the handle, which is provided as a kit including all its spare parts. No additional pieces are needed to reverse the direction of the door opening, which can be done in a few minutes following the simple instructions.

High resistance:

The handle can operate at a temperature range from -25°C to +35°C. The internal and external AISI 304 stainless steel levers guarantee the maximum durability, with more than 300.000 opening cycles test.

Better ergonomics:

The new flexible internal grip can be pulled up for an easier opening, preventing fingers' crushing.
If you would like any further information on MTH's products, including insulated doors for cold rooms, please get in touch with MTCSS!
Contact us to speak to one of our expert team! sales@mtcss.co.uk or 01886 833381