Modular Walk In Cold Room for Foodshare Maidenhead
Foodshare Maidenhead is an independent foodbank providing food, meals and support to those who need it. From feeding families or individuals in crisis, to providing school breakfasts to those who otherwise can't afford it – Foodshare helps communities and those in need.
Foodshare Maidenhead sees over 100 individuals with food vouchers through their doors each week. But they also provide food to other charities who support many of the same people, such as several hostels and refuges in the area, and to those living on the streets, resulting in Foodshare feeding between 220 and 250 each week at this time.
Based at their premises for one and a half years, those who pass through the doors are not only offered food and meals – but they are offered hot tea and coffee, conversation and support.
Lester Tanner, a Trustee of Foodshare Maidenhead, opens the food bank's doors on Wednesday evenings and Saturday morning – welcoming those from all walks of life – with the help of 100 volunteers who support the Foodbank in a of variety of ways. From labelling and shelving, to cooking meals and collecting items, the people who volunteer help keep the charity running and functioning so successfully.
Foodshare required a cold storage solution, a cold room would allow them to store an array of fresh food and products – providing individuals with the nutrition and variety that they need. MTCSS were able to supply and install a walk in chiller to maintain a temperature of between 1°C and 5°C.
Foodshare works directly with supermarkets to gain surplus stock, in addition to working with the charity Fareshare, to not only feed the hungry but also reduce food waste. Majority of this stock is fresh produce, fruit and vegetables, which if not stored correctly will spoil and be unfit for consumption. Foodshare's current set up, several catering fridges and freezers, mean excess labouring to store the foods correctly, excess space being used and not enough storage.
MTCSS installed a Kide Modular coldroom with a monoblock refrigeration unit, allowing the easy storage of foods and products, saving on time and space. The Kideblock Monoblock was installed through the wall, ensuring the cold room uses the space efficiently and maximises storage capacity.  The use of a modular chiller also enables easy dismantling, so Foodshare would be able to re-install the cold room if they were to move premises.
Although they feed over 200 individuals a week, Lester believes they are only reaching about half of those who need the food bank's support. With the amount of people they need to support creeping up year on year, Lester hopes that with addition of the cold room installed by MTCSS, and the increase in fresh produce, he may be able to open Foodshare's doors an additional day each week and help to reach more of those who need the support.
Majority of those who visit the food bank are people in crisis – those who have had a loss of financial income, losses of jobs, circumstances meaning they are unable to work, or other events which are out of their hands – and will only visit the Foodbank for a month or two. However some are in situations where they require support for extended periods of time.
Foodshare not only supports those who walk through the doors, Lester and the Foodshare volunteers provide support throughout the community. A top priority is supporting schools with Breakfast Clubs, to ensure that no child is starting the school day hungry. In the summer holidays they also offer extra support to struggling families by providing more community meals. With the availability of cold room storage Foodshare will now be able to not only give more fresh produce, but they will also be able to create a wider variety of more nutritious community meals.
With MTCSS's cold storage solution, they will be able to reduce their reliance on public donation. Taking a big step forward as they will be able to accept more and more supermarket surplus, growing their Foodbank, their support reach and their community.
If you would like to help support your local Foodbank you can donate in a variety of ways – you can drop in food at the allocated times (check their websites for details!), you can use Drop Boxes at your local supermarket (buy an extra item or two when shopping, and drop them in the box), or you can help by volunteering.
Don't forget that they need donations all year round, the first few months of the year and July to August Foodbanks often see a drop in the food donated. Help keep them stocked up!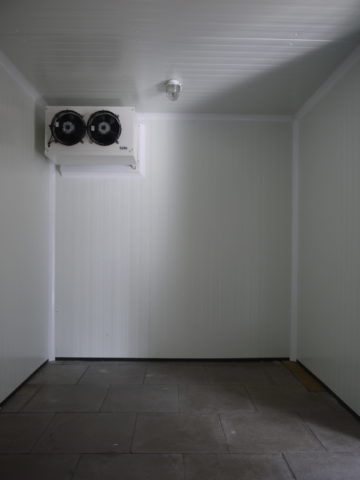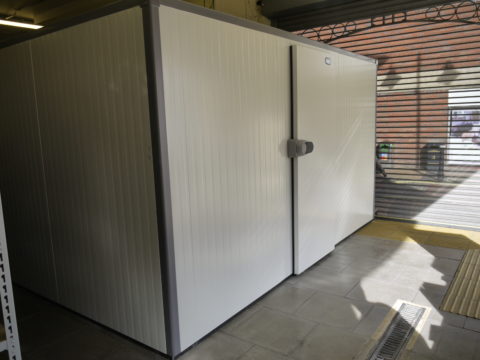 Lester Tanner, Foodshare Maidenhead
Foodshare Maidenhead is concerned to provide as nutritious a diet as we can to the people we support.  Most of the charity's small income is spent on purchasing fresh food, to supplement the package food kindly donated by the local public. Recently we have started to obtain supermarkets' surplus food,  with the ambition to both reduce food wastage and lessen food poverty. However, dealing with an increasing volume of fresh and chilled food presents a challenge.
Having a modular coldroom not only increases our storage capacity, but it makes the handling and management of these food stocks far easier than using conventional refrigerators, so we can be confident about food safety.  It's due to the generosity of MTCSS that a suitable coldroom became viable for the charity.  Having this asset is a big step forward for Foodshare being able to extend its support and deal with the rising demand.