Atmospheric Door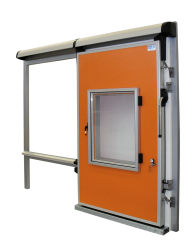 PRODUCT DESCRIPTION
Sliding door for cold room with controlled atmosphere in use up to -5°C minimum,
For temperature up to -5°C
Blade thickness 92mm
Polyurethane density: 40Kg/m³
The ATMC sliding door is suitable for controlled atmosphere cold room application where a perfect gas tightness is required with operation temperature not lower than -5°C.
The double gasket system allows the application on cold room not constantly used in controlled atmosphere.
• Blade edge in anodized aluminium (thickness 92 mm);
• Blade covered with plastic-coated metal sheet for food application colour RAL 9010, thickness 5/10 mm;
• Outside handle: lever;
• Inside handle: lever;
• Double density EPDM gasket on 3 sides;
• Lower gasket in PVC.
• Inflatable gasketto be usedduring the period of ripening;
• Pressure gauge and inflating valve;
• Inspection hatch (600x800mm clear passage) provided with external locking handle and internal safety opener and magnetic sealing gasket.
• Frame and side-frame in PVC colour RAL 9010; the frame is thermo-welded (45°) up to a thickness equal to 160 mm, beyond such thickness it's assembled (90°) with joints;
• Counter-frame in PVC, colour RAL 9010, thermo-welded (45°);
• Special threshold S/2 with the frame (2 jambs + 1 transom) partially put (60 mm) into the floor. At the bottom of the frame it's fixed an "C" beam made of iron which is recessed into the floor. Only the upper part will result visible at the end of the work.
Full Specification at http://mth.it/en/products/doors/sliding-doors/73-ca-door