Cold Room Refurbishment for Food & Drink Retailer
You have noticed your existing cold room isn't working efficiently and is starting to look a bit tired – and you have a health and safety audit coming up… So do you need to replace your cold room, or can it be refurbished?
MTCSS refurbished a chiller cold room for a supermarket within the food and drink retail industry – improving the efficiency of the cold room, improving its appearance and ensuring it will pass any upcoming audits.
What exactly is involved in a cold room refurbishment and how can it benefit your business?
The MTCSS team relined all the internal walls and ceilings of the walk in cold room with hygienic planking – not only improving the appearance of the cold room, but ensuring it continues to be food safe and easy to clean.
MTCSS removed the existing modular flooring, replacing it with a new modular cold room floor with floor overlay, ensuring insulation is maintained and improving the safety of the room with the non-slip floor overlay.
5 bar wall protection was fitted to the exposed front walls and the external side of the door to protect the cold room walls against damage from trolleys and cages.
We installed a PVC strip curtain in the door opening to improve insulation and keep the cold in when the door is left open.
MTCSS can survey your walk in chiller or freezer to help you understand whether you require cold room maintenance and refurbishment, or if you require a new cold room installation. Refurbishments, where possible, can save your business money by ensuring your cold storage remains efficient and meets health and safety requirements.
If you would like the MTCSS to quote for a cold room refurbishment, or you would like further information, please get in touch with us! You can call us on 01886 358272; email us at sales@mtcss.co.uk or fill in an enquiry form!
Before: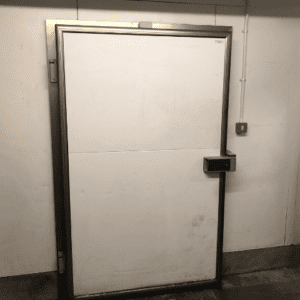 After: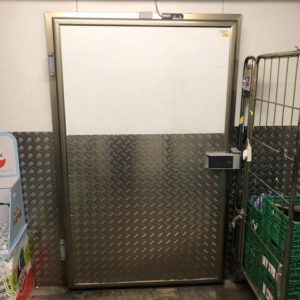 Chris Rudd, Frank Rudd & Sons
" From the initial enquiry to project completion, the team at MTCSS were both prompt and professional - delivering exactly to our requirements. " Chris Rudd, Frank Rudd & Sons Office Installation

Cold Room Refurbishment at Steve's Family Butchers
Steves Family Butchers now has a fantastic refurbished cold room, which actually looks like a whole new cold room thanks to MTcss cold storage solutions. We found they responded in a very quick and helpful manner which meant that they communicated well with us and kept us informed well. The refurbishment was completed to a very high standard in a professional manner. We are exceptionally pleased with the service that we received.

Farmer Jeremy Price of Oakchurch Farm
"We have been very pleased with their approach, management and timely manner in which the project has been competed, extremely pleased."

Farmer Jeremy Price of Oakchurch Farm
"We have been very pleased with their approach, management and timely manner in which the project has been competed, extremely pleased."

Jason Jobling, Director and Chief Operating Officer at Warren's Bakery
"We are really pleased with the quality and performance of the Rapid Rise doors from MTCSS. The doors are reliable and quick to operate, assisting us in the production of the pasties, Saffron cakes, scones and other bakery goods that we make every day. It's too early yet to analyse, but we also expect significant energy savings thanks to the doors' high speed opening and closing. The MTCSS team were professional and helpful during the order and installation process, offering pertinent advice with attentive service."