The high performance door for deep freeze environments – resistant to extreme cold.
The Nergeco Arctic 5 is a high performance and energy saving door, which can be used to separate two freezer areas – for example separating one freezer area at -20ºC in a warehouse from a second freezer area at -15ºC.
The Arctic 5 is designed to perfectly suit freezer areas with it's de-icing system, deep freeze grade lubrication and thermally stable multi-composite.
Designed for exceptional durability and long lasting performance the Nergeco Arctic 5 uses Trekking Fold-Up technology ensuring better operation and a longer life time of the door.
MTCSS can supply, install and service the Nergeco door range, including the Arctic 5 high speed door – call us on 01886 833381 or email us at sales@mtcss.co.uk to enquire today!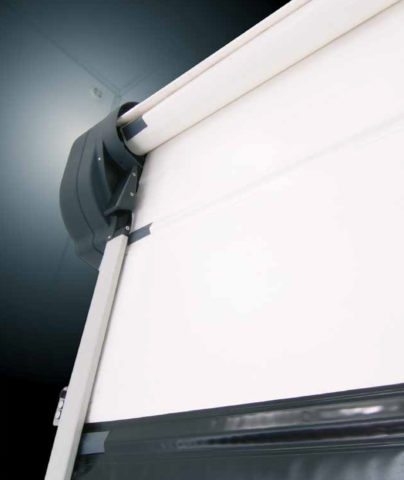 Nergeco Arctic 5
Structure                Multi-composite
Size                          Up to 14′ to 15′
Style                        Roll-up curtain
Speed                      Up to 40 inches per second
Insulation               Single layer 
Multicomposite frame designed for freezer applications
Specially constructed to create a natural thermal barrier
Equipped with low emission de-icing system and freezer grade lubrication
Single layer curtain to allow the separation of two freezer areas without condensation
Designed to operate efficiently in high pressure differences
Shortened door opening and closing cycle to reduce loss and energy consumption
"Intelligent curtain" reduces risk of injury and damage
At the slightest impact the door will reopen
In case of accidental crash, the curtain will reset itself
Made from food grade material – ideal for the food industry
Other Doors in the Nergeco Door Range