High performance door for use between deep-freeze and chilled areas – can be installed in or outside of the freezer cold storage area.
The Nergeco C Freezer 2 is a high performance and energy saving door, which can be used to protect deep freeze areas from chilled or refrigerated areas.
The Freezer 2 is a heated steel structure with a triple layer curtain and is also suitable for overnight closing. The direct drive motor is suitable for use within negative temperatures and the type 2 freezer door is suitable for installation on either the warm or cold side.
To ensure a longer life time of the door and improved performance, the Nergeco Freezer 2 high performance door uses Trekking Fold-Up technology for better operation and the direct drive motor provides long lasting performance.
MTCSS can supply, install and service the Nergeco door range, including the C Chill 5 high speed door – call us on 01886 833381 or email us at sales@mtcss.co.uk to enquire today!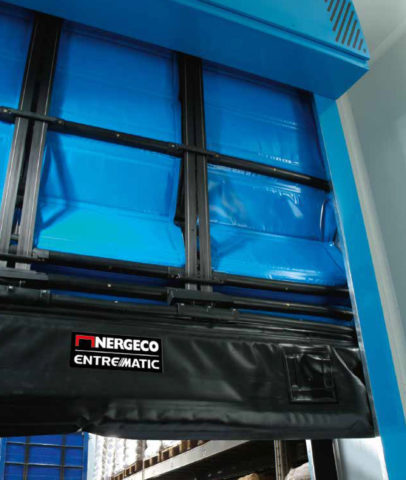 Nergeco C Freezer 2
Structure                 Steel
Size                          Up to 14′ x 15′
Style                         Trekking fold-up curtain
Speed                       Up to 40 inches per second
Insulation                 Triple layer with air mattress
Features                  Self supporting steel structure
Multifold frame made of 3 to 4mm thick steel
Self supporting structure with lower overall dimensions to save space
Anti freezing features – low emission de-icing system and deep freeze grade lubrication
Self controlled heating systems for smooth opening and closing
Flexible triple layer curtain
Efficient in even high pressure difference cold rooms and between zones of two different negative temperatures
Shortened door opening and closing cycle
Reduces loss and energy consumption by up to 32%
"Intelligent curtain" reduces risk of injury and damage
In case of accidental crash, the curtain will reset itself
Made from food grade material – ideal for the food industry
Other Doors in Nergeco Door Range