High performance door for use between deep-freeze and chilled areas – with triple layer curtain, suitable for overnight closing.
The Nergeco Freezer 5 is a high performance and energy saving door, which can be used to protect a deep freeze area from a refrigerated area – for example to separate a -15ºC freezer area of a warehouse from a 5ºC chilled area.
The multi-composite Freezer 5 door has an insulated triple layer curtain with a natural thermal barrier and the Trekking Fold-Up technology used ensures better operation.
Combined with the direct drive motor providing lasting performance and the doors impact absorption, the Nergeco Freezer 5 has a longer life time and lower repair costs.
MTCSS can supply, install and service the Nergeco door range, including the C Chill 5 high speed door – call us on 01886 833381 or email us at sales@mtcss.co.uk to enquire today!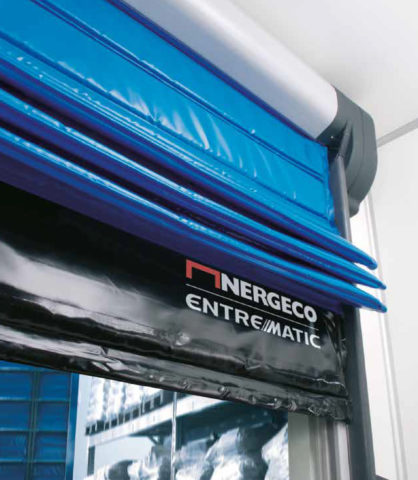 Nergeco C Freezer 5
Structure                   Multi-composite
Size                            Up to 14′ x 15′
Style                           Trekking fold-up curtain
Speed                         Up to 40 inches per second
Insulation                   Triple layer with air mattress
For installation inside the freezer area
Multi-composite frame designed for freezer applications
Specially constructed to create a natural thermal barrier
Equipped with low emission de-icing system and freezer grade lubrication
Designed to operate efficiently in pressure differences
Shortened door opening and closing cycle
Reduces loss and energy consumption by up to 32%
"Intelligent curtain" reduces risk of injury and damage
At the slightest impact the door will reopen for improved safety
Made from food grade material – ideal for the food industry
Other Doors Available in the Nergeco Door Range