Nergeco Standard High Speed Door
High performance door for intensive use – an energy efficient and safe solution for logistics and retail
The Nergeco R Forum 5 high speed door is energy efficient and ideal for a range of applications, including food & drinks retail and warehousing & distribution.
The Forum 5 is made from a smooth surfaced Multi-Composite material with 45% higher corrosion resistance than stainless steel. It has a minimal moving parts with a direct drive, reducing the risk of faults and reducing maintenance costs.
MTCSS can supply, install and service the Nergeco door range, including the Nergeco R Forum 5 high speed door – call us on 01886 833381  or email us at sales@mtcss.co.uk to enquire today!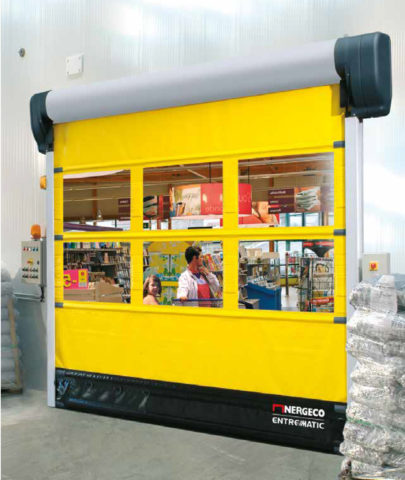 NERGECO R FORUM 5
Structure           Multi-composite
Size                       Up to 14′ to 15′
Style                     Roll-up curtain
Speed                   Up to 48 inches per second
Shortened door opening and closing cycle, decreasing energy costs
Designed to allow the door to operate even under pressure differences
"Intelligent curtain" reduces risk of injury and damage
At the slightest impact the door will reopen
Can be equipped with windows to allow people to see oncoming traffic
Equipped with autoreinsertion technology – in case of accidental crash the curtain will reset itself
Direct drive motor provides long lasting performance
Impact absorption to avoid permanent distortion and high repair costs
Other Doors in the Nergeco High Speed Door Range