Modular Cold Rooms
Modular cold rooms are an ideal cold storage option for small to medium walk in chiller or freezer requirements, which fit within the modular panel sizes. Modular cold rooms are ideal for a variety of industries, including restaurants, hotels, butchers, delis, breweries and more!
MTCSS supply and install cold rooms built from high quality products, adhering to hygiene, building and fire safety standards where required. We offer modular cold room solutions taking into consideration your business requirements – offering all aspects of modular cold storage including refrigerated doors, flooring and refrigeration to suit your application and specification.
We can provide you with a free of charge quotation for a chiller or freezer cold room for your business – if you would like to make an enquiry, or you'd like to know more, get in touch! Call us on, 01886 83381, email us at sales@mtcss.co.uk, or fill in an enquiry form here!
MT Cold Storage Solutions offer industry-leading modular cold room systems, made with high-quality insulated panels and flooring which offers unmatched adaptability, turnkey installation and energy efficiency to your cold storage.
What is a Modular Cold Room?
A modular cold room is a walk in chiller or walk-in freezer which is built from interlocking insulated panels, which can be assembled in a variety of sizes – resulting in quick installation and an easy versatility that can benefit any industry.
Since they are quick and easy to set up and dismantle, and provide excellent insulation, modular cold rooms are an ideal choice for industries which require variable cold storage facilities – especially cold rooms which may need to expand in the future, allowing for easier company and business expansion.
Modular cold rooms are not only have industry leading insulation and energy efficiency – modular chiller and freezers are ideal for internal applications which require temperature ranges of between -20°C and +10°C.
Modular cold rooms are versatile, and unlike industrial cold rooms, modular cold rooms is built by connecting insulated panels together – making installation quick and simple, which is also beneficial if you are required to move premise or you'd like to expand your cold room storage! This makes modular cold rooms a versatile cold storage option.
What are other advantages of modular cold rooms? :
• Designed as a flat pack walk-in cold store, the system can be installed be more easily installed – therefore contractors and skilled labourers are able to install this cold storage product
• Subject to application and location, the modular cold rooms can be supplied in a variety of colours, or in a stainless steel finish.
• A choice of panel thickness, flooring, wall profiles, and a range of doors are available.
• High Density PU (injected Polyurethane) results in an optimum thermal insulation coefficient and perfect panel fitting
• Panel joint system with 200kg traction strength for totally tight fastening contributing to greater energy savings
• Smart and innovative design for insulated doors – always offering the maximum guarantee for water tightness and isolation
• They are great integral solutions
• They have the marking according to the European standard EN 14509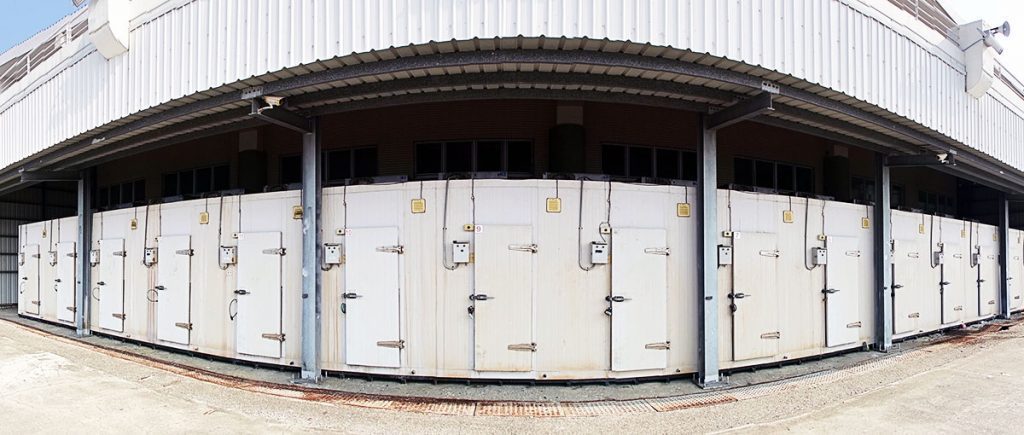 What Modular Cold Rooms are Available from MTcss?
MTCSS can supply and installation Modular Rooms for a variety of applications and specifications. Whether you require chiller, freezer, or dual compartment cold rooms – our Modular Rooms will efficiently and reliably store and meet your requirements.
Modular chiller cold rooms are ideal for the storage of a variety of products from:
• chilled food products
• ready to eat food products
• fresh fruit & vegetable produce
• pharmaceutical products
• any products which need to be stored between 0°C and 10°C
Modular freezer cold rooms are ideal for storing products such as :
• frozen food products
• meat products
• bakery produce
• frozen meals
• chilled or ambient products which need to be frozen
• any products which are required to be stored under 0°C
Where negative temperatures for freezer cold rooms are required, our Modular Rooms feature 100mm panel insulation. Where positive temperatures (for chiller applications) are specified, MTCSS supplies 80mm panel insulation. We offer effective insulation for temperature ranges from -20°C to +20°C.
Our Modular Rooms include PVC angular joints, and for ease of installation use a Cam-Lock system. A door opening system complements internal safety door handles and external handles that can be fitted with or without a key lock. Optimum hygiene conditions are faciliated by design and construction.
Our Modular Rooms are available with or without flooring, and can incorporate non-slip flooring where required. We can also provide hinged or sliding doors dependent on your requirements and application.

Catherine Hester Fenwick, Ambient storage at Brabourne Wines 2021
'Brabourne Wine is a small, family run vineyard in Kent. In an Area of Outstanding Natural Beauty, a Conservation Area and with listed buildings, we needed to find a solution to store our wine without building afresh or making any material differences to the current buildings. MTCSS were amazingly flexible. They worked with us to develop a solution that fitted inside one of our outbuildings. Given the limitations on space and the requirement to have racking suitable for pallets, virtually everything about the project had to be bespoke but Darren never lost patience with the endless queries in the planning phase. Once on site, the team was professional, friendly, flexible and quick. They have delivered a solution which is perfect for our needs and exceeds our expectations. We are at the smaller end of their usual customer base, but we were never made to feel as though we were any less important than a major supermarket chain. We would certainly recommend them to anybody needing a controlled climate for storage (or any other reason)'

Chris Rudd, Frank Rudd & Sons
" From the initial enquiry to project completion, the team at MTCSS were both prompt and professional - delivering exactly to our requirements. " Chris Rudd, Frank Rudd & Sons Office Installation

Cold Room Refurbishment at Steve's Family Butchers
Steves Family Butchers now has a fantastic refurbished cold room, which actually looks like a whole new cold room thanks to MTcss cold storage solutions. We found they responded in a very quick and helpful manner which meant that they communicated well with us and kept us informed well. The refurbishment was completed to a very high standard in a professional manner. We are exceptionally pleased with the service that we received.

Farmer Jeremy Price of Oakchurch Farm
"We have been very pleased with their approach, management and timely manner in which the project has been competed, extremely pleased."

Farmer Jeremy Price of Oakchurch Farm
"We have been very pleased with their approach, management and timely manner in which the project has been competed, extremely pleased."