Ambient Wine Storage for Brabourne Winery
Did you know that MTCSS can offer more than chiller and freezer cold rooms? We can also design and install ambient temperature controlled rooms. Ambient rooms are used to store a range of products, including wine!
MTCSS recently installed an ambient room for wine storage at Brabourne Winery in Kent. Located in an Area of Outstanding Natural Beauty, Brabourne Wine needed a temperature controlled solution to store their wine without developing new building on the property or without making external visual differences to their existing buildings.
MTCSS's solution was to build an ambient temperature controlled room within one of the existing outbuildings – our team designed a bespoke room built from insulated panel to fit within the existing space and size available in the outbuilding.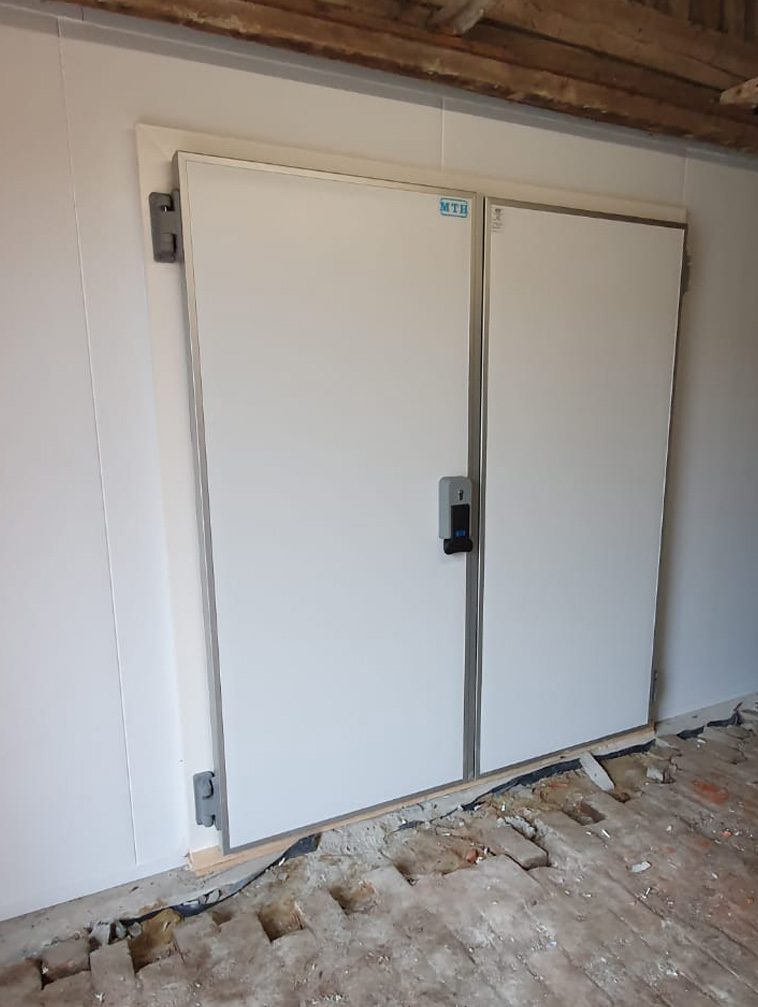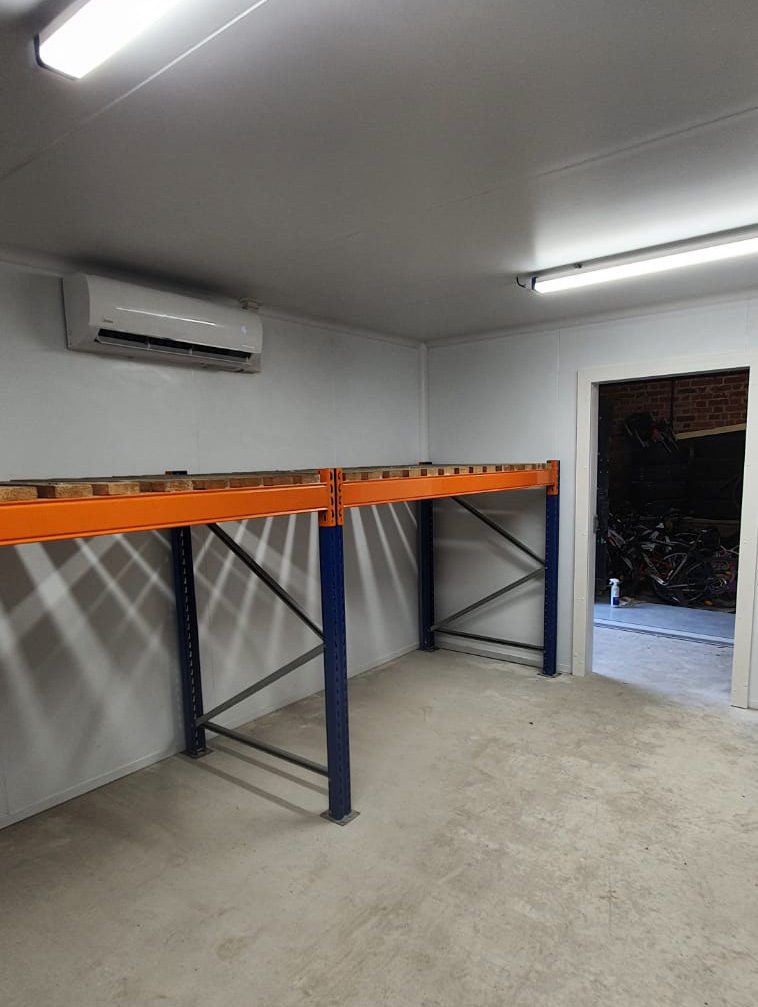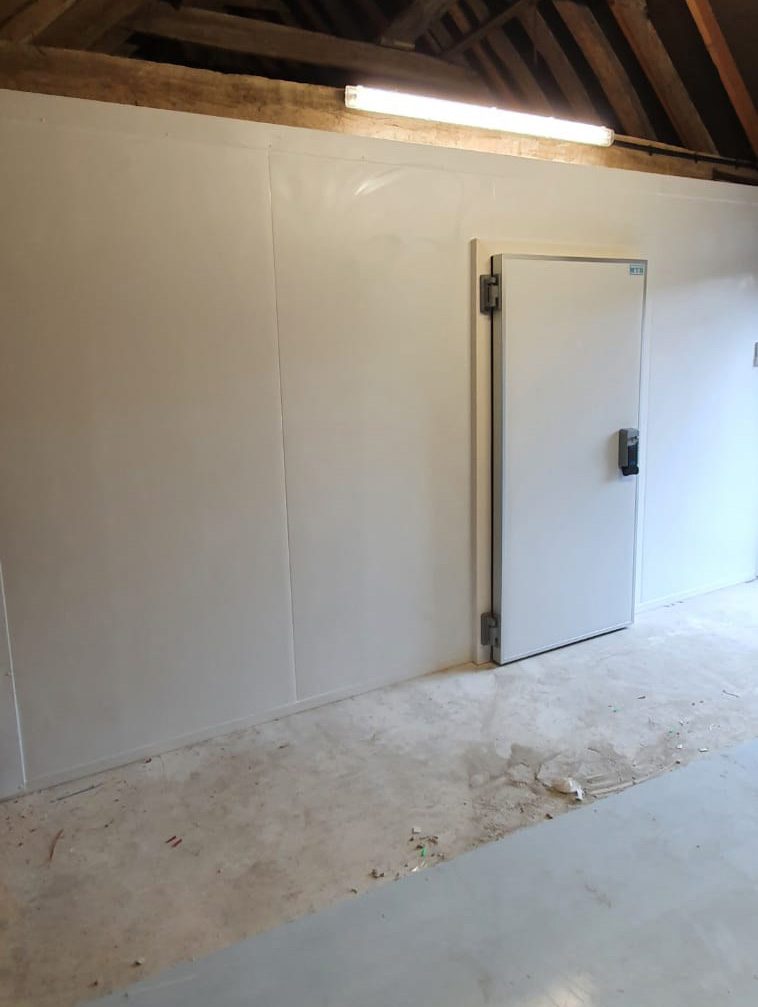 The 56.4m³ ambient room was built with 80mm Kingspan Quadcore Panel, making it food safe, easy to clean and offering the highest quality insulation properties. To achieve the temperature ranges required, the MTCSS team supplied and installed an air conditioning system in the insulated space.
The temperature controlled room was custom built to make the most of the space available and to allow for the access required – this included 1 MTH insulated 500TN hinged door and a set of MTH 500TN double hinged insulated doors to allow for pedestrian and pallet access in and out of the ambient room.
In order to store and manage the wine stock effectively, MTCSS worked with Brabourne Wine to develop a storage solution to fit within their space and requirements. We supplied and installed bespoke storage racking to allow them to store their wine effectively and in line with their processes.
Our team worked closely with Brabourne Wine throughout the process, from survey to installation and after sales, to deliver a completely custom cold room to suit their requirements and enhance their day to day. MTCSS's exceeded the client's expectations and fits their needs perfectly.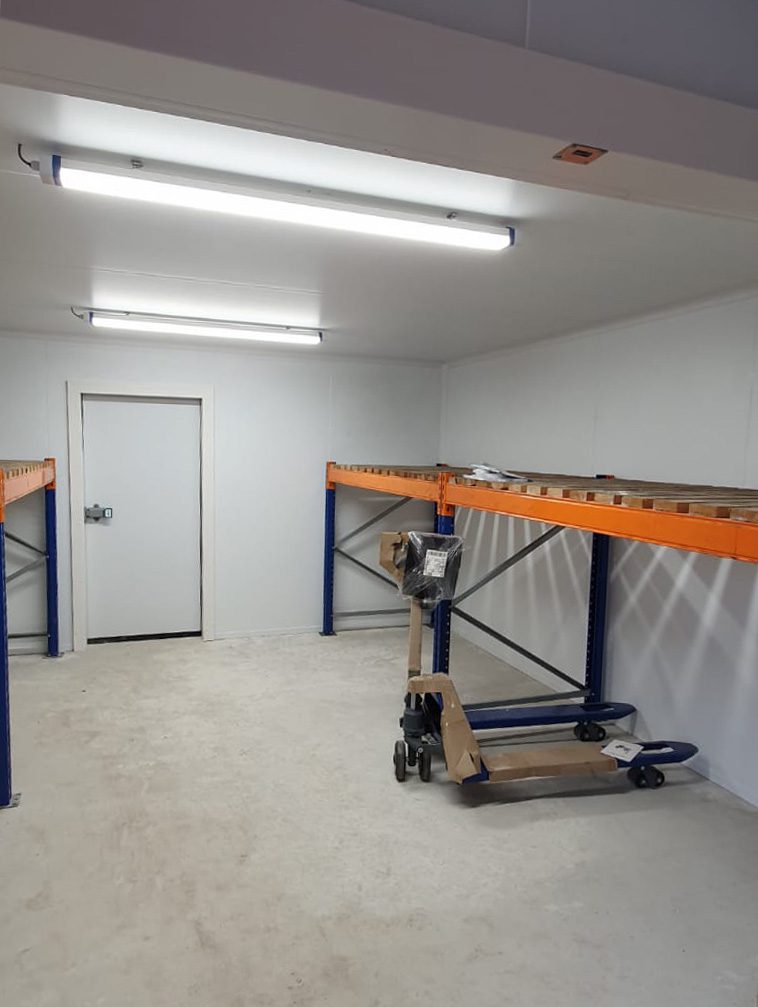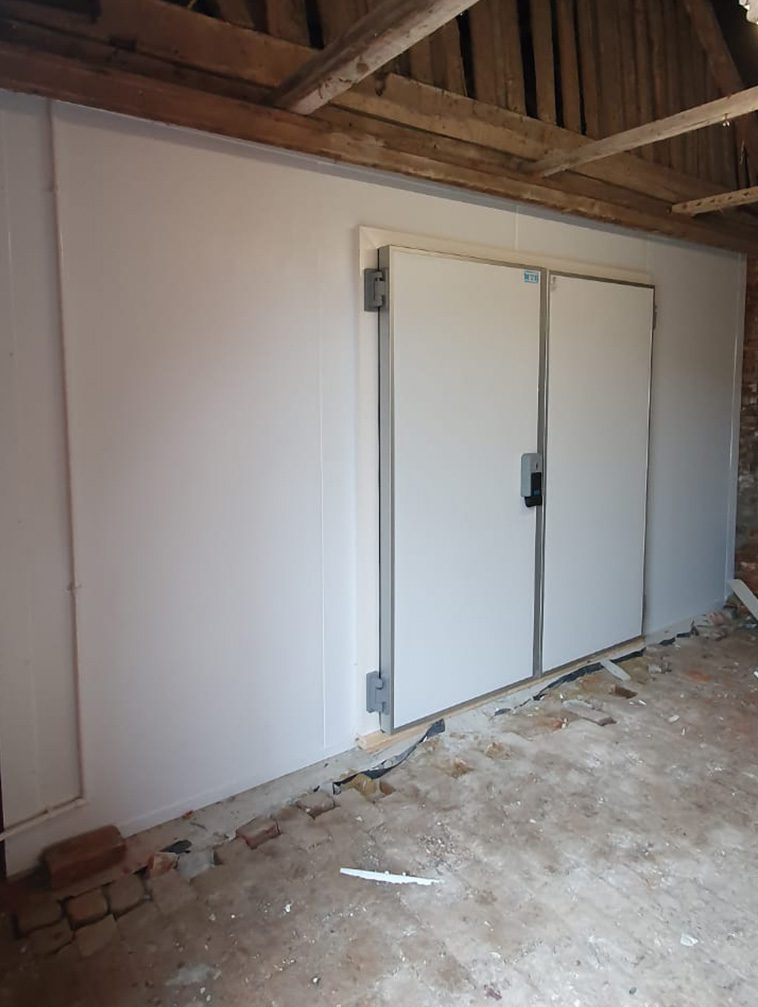 Project Specifications
• External dimensions : 4800mm x 4700mm x 2500mm (w x d x h)
• 80mm Kingspan panel
• 1no MTH 500TN 900mm x 2000mm hinged door
• 1no MTH 500TN double hinged doors 1800mm x 2000mm hinged door
• Air conditioning system for ambient temperature control
• Racking
If you would like to know about temperature controlled solutions, designed and built by MTCSS, and how we can help your business – get in touch with our team!
Call us on 01886 833381, email us at sales@mtcss.co.uk or fill in an enquiry form here!

Catherine Hester Fenwick, Ambient storage at Brabourne Wines 2021
'Brabourne Wine is a small, family run vineyard in Kent. In an Area of Outstanding Natural Beauty, a Conservation Area and with listed buildings, we needed to find a solution to store our wine without building afresh or making any material differences to the current buildings. MTCSS were amazingly flexible. They worked with us to develop a solution that fitted inside one of our outbuildings. Given the limitations on space and the requirement to have racking suitable for pallets, virtually everything about the project had to be bespoke but Darren never lost patience with the endless queries in the planning phase. Once on site, the team was professional, friendly, flexible and quick. They have delivered a solution which is perfect for our needs and exceeds our expectations. We are at the smaller end of their usual customer base, but we were never made to feel as though we were any less important than a major supermarket chain. We would certainly recommend them to anybody needing a controlled climate for storage (or any other reason)'

Chris Rudd, Frank Rudd & Sons
" From the initial enquiry to project completion, the team at MTCSS were both prompt and professional - delivering exactly to our requirements. " Chris Rudd, Frank Rudd & Sons Office Installation

Cold Room Refurbishment at Steve's Family Butchers
Steves Family Butchers now has a fantastic refurbished cold room, which actually looks like a whole new cold room thanks to MTcss cold storage solutions. We found they responded in a very quick and helpful manner which meant that they communicated well with us and kept us informed well. The refurbishment was completed to a very high standard in a professional manner. We are exceptionally pleased with the service that we received.

Farmer Jeremy Price of Oakchurch Farm
"We have been very pleased with their approach, management and timely manner in which the project has been competed, extremely pleased."

Farmer Jeremy Price of Oakchurch Farm
"We have been very pleased with their approach, management and timely manner in which the project has been competed, extremely pleased."