Multicompartment Ambient Food Safe Storage
Are panels only used for chiller and freezer storage facilities? The answer is no! Panels supplied by MTCSS are ideal for a range of specifications, from walk in chillers and freezer to ambient and food safe storage.
And did you know you can clad your existing building or space to create a food safe and temperature controlled area, without having to build a completely separate room? MTCSS recently did just that and installed a food safe ambient space for a client in Birmingham.

MTCSS needed to provide a solution for a company within the Food & Drink Manufacturing industry, to suit their requirements for food safe ambient compartments to manufacture vegan sweets.

The MTCSS team worked within tight deadlines and time frames to supply and install multi compartment rooms – their existing space was clad with Kingspan PIR food safe panel and Altro flooring was installed throughout. MTCSS worked in conjunction with appointed electricians and HVAC engineers to achieve the internal food grade facility.


Are you looking for a food safe chiller, freezer or ambient area for your business? Get a free quote, or just some more information, by contact MTCSS – calling us on 01886 833381, email us at sales@mtcss.co.uk or fill in a contact form and we will be in touch!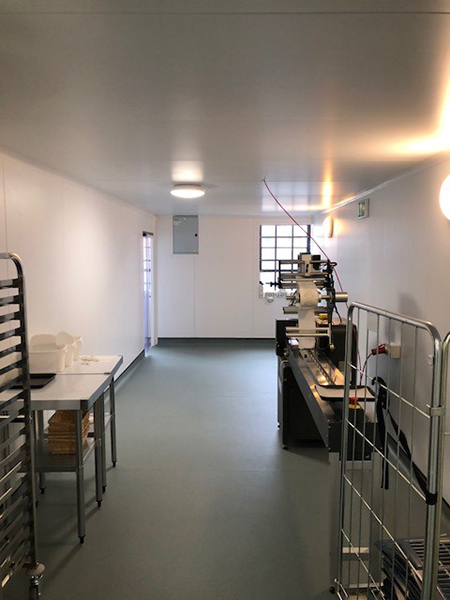 Project Specifications
Location : Birmingham
Industry : Food & Drink Manufacturing
Room 1 Specifications :
• External dimensions : 5780mm x 6100mm x 3600mm
• 50mm Kingspan IPN Quadcore Wall & Ceiling Panels
• 2.5mm Classic Altro Flooring
Dual Compartment Specifications :
Compartment 1 :
• External dimensions : 10700mm x 15340mm x 3400mm
• 50mm Kingspan IPN Quadcore Wall Panels
• 80mm Kingspan IPN Quadcore Ceiling Panels
• 900mm x 2000mm MTH Hinged Personnel Door with Strip Curtains
• 2.5mm Classic Altro Flooring
Compartment 2 :
• External dimensions : 4400mm x 8270mm x 2500mm
• 50mm Kingspan IPN Quadcore Wall Panels
• 2.5mm Classic Altro Flooring