Cold Room Refurbishment & Maintenance
At MTCSS we understand the importance of having an efficiently running cold room and how an inefficient chiller or freezer could negatively impact your business. We also know how important for your cold storage to adhere to all health and safety regulations.
That is why MTCSS not only offer new cold room installation, but we offer maintenance and refurbishment on your existing walk in chillers, freezers and doors where this is possible.
What refurbishment & maintenance services can MTCSS provide?
• Cold room refurbishment and maintenance
• Cabinet refurbishment and maintenance
• Cold room dismantling and removal
• Cold room and cabinet parts supply
• Cold room door refurbishment and supply
• Industrial door refurbishment, parts and supply & install
Why should you refurbish your cold rooms, cabinets & doors?
Refurbishing your existing chiller or freezer cold room and cold rooms doors is essential to ensuring your cold room continues to work efficiently and effectively. A cold room which is running inefficiently is at risk of higher running costs and potentially damaging your products.
Cold room maintenance and refurbishment is also vital to ensure the safety of your cold room – keeping your employees and those who use your cold room safe at all times.
Temperature controlled cabinets are often customer facing and on shop floors – meaning if your cabinet is looking old, tired or even broken, your customers will see this. Well maintained cabinets are essential for an aesthetic shop front and to keep your food and drink products at the required temperatures.
Before Cold Room Refurbishment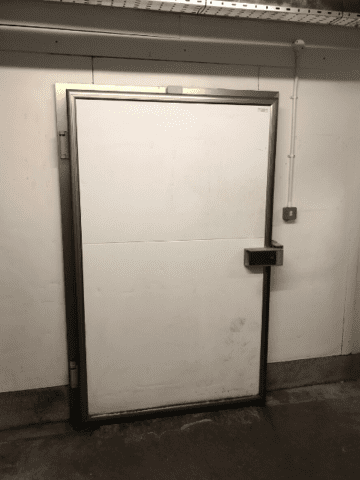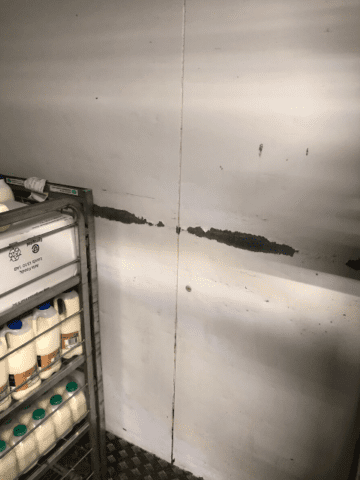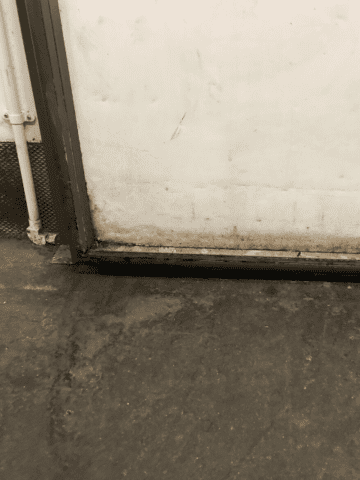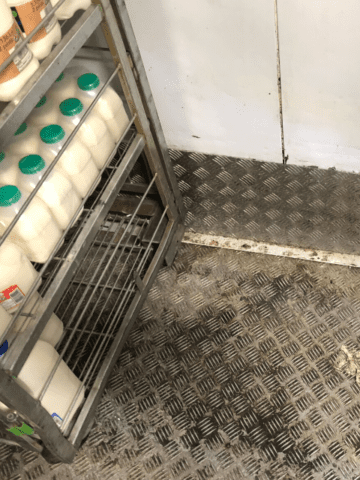 After Cold Room Refurbishment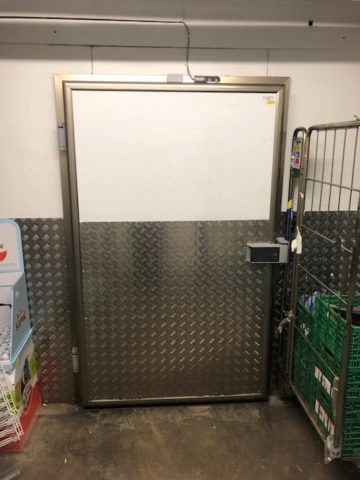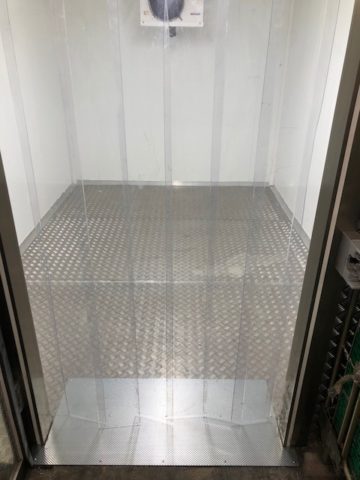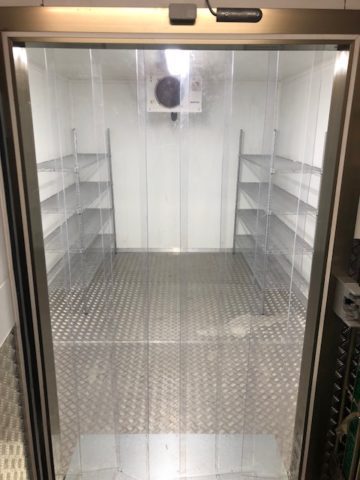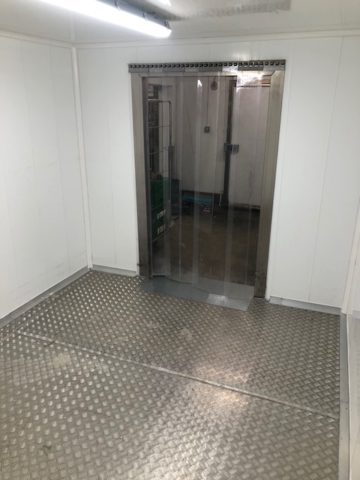 Maintaining doorways and cold rooms doors is key
If the cold room door or gasket perishes, the door won't seal correctly – then the temperature will escape through the door. This can make the refrigeration equipment work a lot harder than it was designed for subsequently costing more energy to power and run.
In freezer cold rooms and walk in freezers – where the cold air escapes the room and meets the ambient air then ice can start to form around the door frame, making the door difficult to open / close. This could potentially cause an accident, especially if the ice forms on the floor threshold, making the floor a risk for slipping and therefore causing injury.
If a cold room door handle breaks there is potential for someone not being able to get out of the room if they shut the door behind them – making it highly unsafe for operations. If an employee is trapped inside a freezer this could potentially be a very dangerous situation.
Where the cold room door isn't running and operating correctly, they can become stiff and harder to open increasing the potential risks to employees having to constantly open them resulting strains, muscle pulls etc.
---
How do I know whether I need to get a new cold room or refurbish my existing cold room?
You may wonder whether you need to replace your existing cold room or whether you can opt for cold room refurbishment – MTCSS explain what to look for to indicate you need a new cold room.
If the cold room panels have started to delaminate or shrink, then they are losing their insulation performance making the refrigeration equipment work harder. The ceilings will be under more stress if they have delaminated, increasing the risk of them collapsing – this is when you should think of investing in a new room.
If the cold room is damaged internally, affecting the aesthetics, or if the steel layer is ripped causing jagged edges etc – then consider a cold room refurbishment. We can install 5 bar aluminium up to 1200mm height inside and outside the room, or hygienic planking inside the cold room to improve the appearance and safety of the room.
---
What is involved in refurbishing my cold room?
If you are able to opt for cold room maintenance and refurbishment, here are the key elements of refurbishing your walk in chiller and freezer :
Changing door and sweeper gaskets
Checking and changing heaters
Repairing or replacing handles and door furniture
Adjusting door operations
Floor replacement and overlay if required
Hygienic planking to internal walls if required
Door and wall protection if required
To learn more about our cold room refurbishment services please do not hesitate to get in touch with our experienced, knowledgeable team. You can contact us by calling 01886 358276. Alternatively, reach out via our email sales@mtcss.co.uk. We will be more than happy to help with any of your questions and queries.
---
Case Studies

Catherine Hester Fenwick, Ambient storage at Brabourne Wines 2021
'Brabourne Wine is a small, family run vineyard in Kent. In an Area of Outstanding Natural Beauty, a Conservation Area and with listed buildings, we needed to find a solution to store our wine without building afresh or making any material differences to the current buildings. MTCSS were amazingly flexible. They worked with us to develop a solution that fitted inside one of our outbuildings. Given the limitations on space and the requirement to have racking suitable for pallets, virtually everything about the project had to be bespoke but Darren never lost patience with the endless queries in the planning phase. Once on site, the team was professional, friendly, flexible and quick. They have delivered a solution which is perfect for our needs and exceeds our expectations. We are at the smaller end of their usual customer base, but we were never made to feel as though we were any less important than a major supermarket chain. We would certainly recommend them to anybody needing a controlled climate for storage (or any other reason)'

Chris Rudd, Frank Rudd & Sons
" From the initial enquiry to project completion, the team at MTCSS were both prompt and professional - delivering exactly to our requirements. " Chris Rudd, Frank Rudd & Sons Office Installation

Cold Room Refurbishment at Steve's Family Butchers
Steves Family Butchers now has a fantastic refurbished cold room, which actually looks like a whole new cold room thanks to MTcss cold storage solutions. We found they responded in a very quick and helpful manner which meant that they communicated well with us and kept us informed well. The refurbishment was completed to a very high standard in a professional manner. We are exceptionally pleased with the service that we received.

Farmer Jeremy Price of Oakchurch Farm
"We have been very pleased with their approach, management and timely manner in which the project has been competed, extremely pleased."

Farmer Jeremy Price of Oakchurch Farm
"We have been very pleased with their approach, management and timely manner in which the project has been competed, extremely pleased."